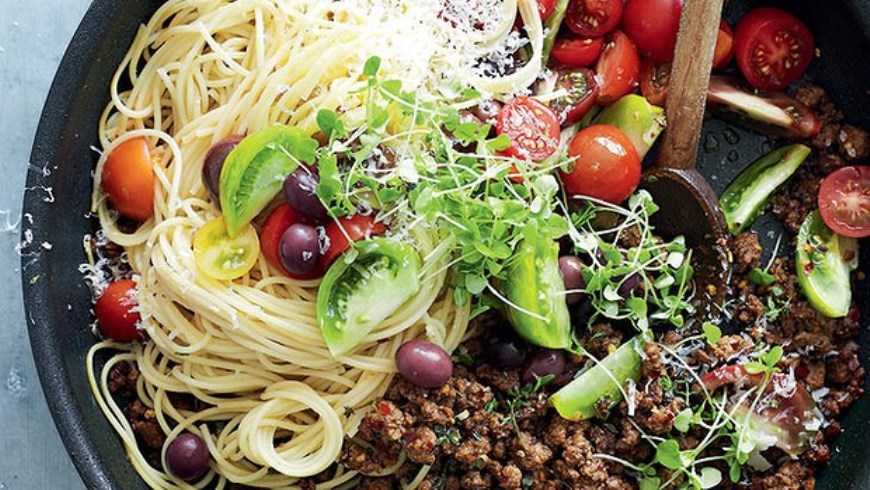 Believe it or not, pasta can actually be the perfect meal for hot-weather nights. Just toss your favourite pasta together with seasonal veggies, olive oil and a bit of grilled meat. It's a much more satisfying and visually appealing way to fill up while beating the heat.
Try this delicious summer bolognese recipe.
Ingredients
400g spaghetti
¼ cup (60ml) olive oil
500g beef mince
3 cloves garlic, crushed
2 tablespoons thyme leaves
2 teaspoons dried chilli flakes
sea salt and cracked black pepper
2 teaspoons caster (superfine) sugar
2 tablespoons tomato paste
½ cup (125ml) dry white wine
1 tablespoon finely grated lemon rind
2 tablespoons lemon juice
2 tablespoons red wine vinegar
400g mixed cherry tomatoes, halved
½ cup (90g) Ligurian olives
baby (micro) basil leaves, to serve
finely grated parmesan, to serve
Method
Cook the pasta in a large saucepan of salted boiling water for 10–12 minutes or until al dente. Drain and keep warm. Heat 1 tablespoon of the oil in a large, non-stick frying pan over high heat. Add the mince, garlic, thyme and chilli and cook, breaking up any lumps with a wooden spoon, for 6–8 minutes or until browned. Add the salt, pepper, sugar and tomato paste and cook for 4–5 minutes. Add the wine and cook, stirring occasionally, for a further 3–4 minutes or until the liquid is reduced. Toss the pasta with the remaining oil, lemon rind, lemon juice and vinegar. Add the mince, tomatoes and olives and toss to combine. Top with basil leaves and sprinkle with parmesan to serve. Serves 4–6.