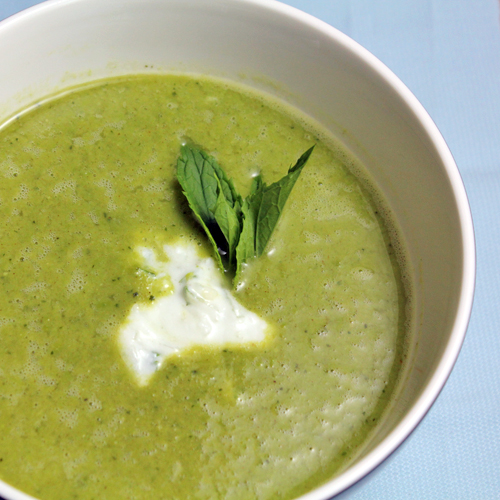 soulful green pea soup
Feeling the chill? Why not try this delicious recipe for heart warming green pea soup!
Served with warm crusty bread as an entrée or main meal, it's the perfect family dish for the return of the winter months. Soup is also the ideal supper solution for painful teeth and gums, and as long as you lay off the cream, it doubles as a very nutritious winter warmer without the "comfort food" calories! This soup also makes for lovely left-overs, so why not double the ingredients and make sure you've got enough to freeze for easy lunches or lazy dinners!
Ingredients:
1 tablespoon unsalted butter
1 medium leek, root trimmed, halved lengthwise, thinly sliced (white and green parts only)
2 teaspoons sea salt
2 1/2 cups homemade vegetable broth (or 1 cup low-sodium pre-made vegetable broth mixed with 1 1/2 cups water)
1/8 teaspoon freshly ground black pepper
3 cups shelled fresh peas or 500 grams package frozen peas, thawed
1/4 cup loosely packed fresh mint leaves
1 teaspoon freshly squeezed lemon juice
Sour cream for serving (optional)
Method:
Melt butter in medium saucepan over medium heat until foaming. Add leek, 1/2 teaspoon of salt, pinch of pepper. Cook, stir occasionally until softened.
Add broth, remaining salt, pepper and bring to boil.
Add peas and bring to boil again.
Reduce heat to medium low and simmer until peas are tender.
Remove pan from heat, add mint leaves and stir to combine.
Let sit uncovered until the flavours develop (approx. 10 minutes).
Using a blender, purée soup in batches until smooth.
Remove small cap from blender lid (the pour lid) and cover with tea towel (allows steam to escape and prevents lid from popping off).
Transfer soup to clean saucepan or heatproof bowl and stir in lemon juice.
Taste and season with more salt, pepper and lemon juice as desired.
Top each serving with a dollop of sour cream